See Jane & Patrick Slide...
Posted: November 26, 2012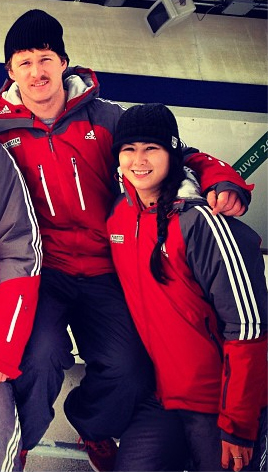 Congratulations to local BC Skeleton Athletes Jane Channell & Patrick Rooney who were both named to the Canadian National Development Team for 2012/2013!
Both are in their first competitive year and are taking the sliding world by storm. In just 4 races Jane has been in the top 10 in every race with two medals to her name - a 6th place in Park City  and another 6th place in Calgary. Rooney has medaled in all four of his races - taking 3rd place in his first ever FIBT race, following that up with another top five finish coming in with a 4th Place in Park City. Then came the Calgary track with a 4th and a 5th place finish in races #3 & 4!
See Jane & Patrick Slide in the North Americas cup races #5, 6 & 7 here on their home track.
Where: Whistler Sliding Center
When: Friday December 7th - 1pm. Saturday December 8th - 5pm & Sunday December 9th - 5pm!
What: Come out and show your support - don't forget your cowbells! We always need more cowbells!
Help our athletes reach their goals. Show your support by placing a donation on our BCBSA home page.
****Keep an eye out for some of our other local Skeleton athletes competing on NAC and Europa Cups Circuits this season! Sean Greenwood has donned an Irish Speedsuit for this season, while Scott Ballard is out there representing the Aussies! We wish them all the best of luck this season!****