Bobsleigh and Skeleton Recruitment - Summer 2021
Posted: June 22, 2021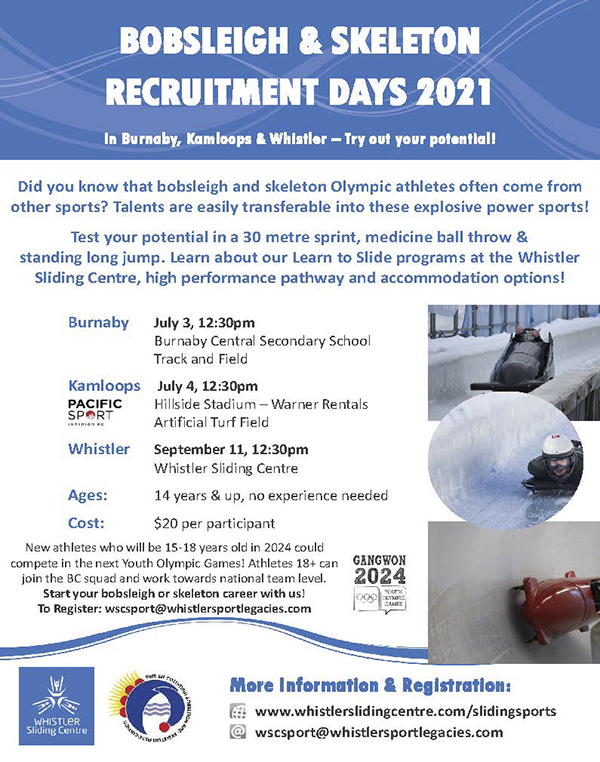 Are you interested in getting into the exciting sports of bobsleigh or skeleton?
Join us at our recruitment days this Summer to meet coaches and senior athletes, and learn about our training program and how you could get on the Olympic pathway!
At the July sessions, we'll teach you about the physical fitness standards and see where you're at. You'll be doing a series of tests, so wear running shoes and active wear. Coaches and senior athletes will also be there to talk to you more about the sport and answer any questions you have. You'll also get a fitness chart and some fun swag!
In the September session, you'll complete the physical tests again to see where you're at leading into the winter season and get information on the 2021-2022 season.
We encourage you to attend one July session and the September session.
If you're not familiar with the testing requirements, we recommend you watch this video to prepare for the session: https://www.dropbox.com/s/j6hsm55u1w2o5hy/InShot_20200903_161756024.mp4?dl=0
Note, you don't need to reach these standards to start training in bobsleigh/skeleton, though its worthwhile starting to build your strength in these areas.
Dates, times and more information in the attached flyer.
If you have any friends also interested, bring them along.
Email wscsport@whistlersportlegacies.com to register for your preferred date and with any questions you have.
Looking forward to seeing you there!